Spring Home Project DIY… bringing a little outside inside
Bringing the outside into your home with plants is a great way to (literally) bring some life Into your Spring home projects.  There are a ton of resources available at your local Goodwill to create an amazingly easy DIY terrarium!
With Spring upon us, I have been anxious to test my green thumb.  But at the same time, terrified the temperature changes will result in mass garden casualties! So, this easy DIY Terrarium is an easy indoor plant option.
Not only are terrariums perfect for our unruly weather, they're also a beautiful option for decorating with thrift store finds. If you like budget friendly home décor options, you'll love the Easy DIY Terrarium!
Easy as 1-2-3
To get started on your own Easy DIY Terrarium, here is what you will need from your local Goodwill for this project:
  Glass Tray
  Terracotta Pots
  Glass Cloche Domes.  What is a cloche?  Simply put, it is a translucent cover used to protect plants. You can use any clear glass for this project. Be creative! Just be sure the class is tall.  This is key. Your plant needs room to grow. Some things that might work: glass jars, glass bowls, mason jars, or a fish bowl.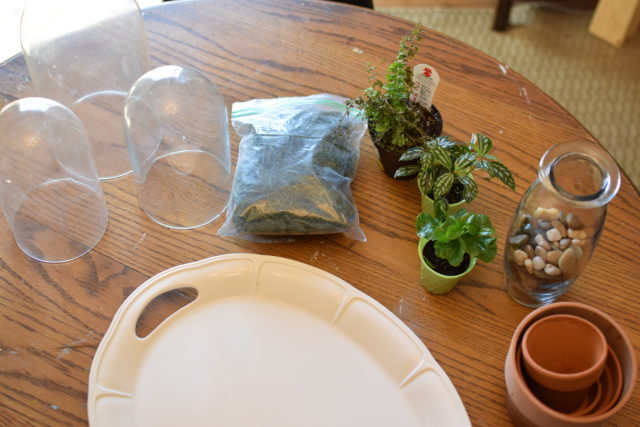 ---
Get some potting supplies too. If you're a plant expert, feel free to set up your terrarium however you'd like. If you're not sure where to start, check out my full post HERE to see how I "layered" my Easy DIY Terrarium. I also shared a trick for finding house plants for cheap!
Once you have your supplies from Goodwill,  start putting together your Easy DIY Terrarium.
Step 1
It's super simple. First, get your plants into the terracotta pots.
---
Step 2
Then, arrange on your tray.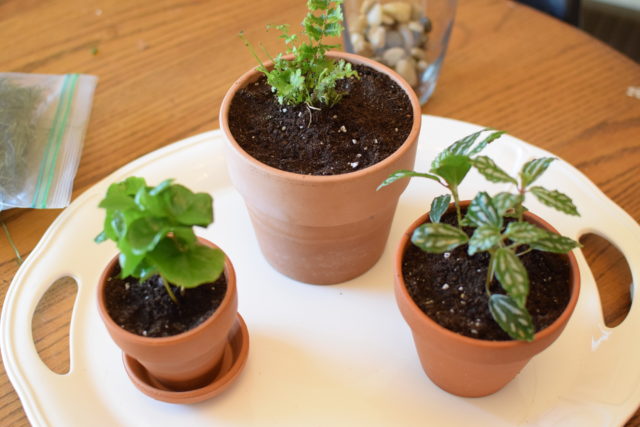 ---
Step 3
Finally, add the domes!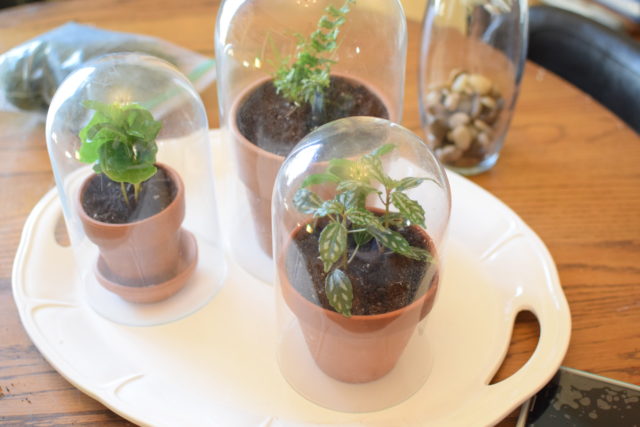 ---
Tips
Tip 1:  Because the covered terrariums create a greenhouse effect, there will be some moisture build up. Which is why I highly suggest the glass tray like I used.  This will create a moisture barrier between your Easy DIY Terrariums and whatever surface you'll be putting them on.
Tip 2:  When you pick out your supplies at Goodwill, make sure the dome fits over the terracotta pots you use. A couple of mine were a pretty snug fit, and I had to experiment with which dome worked best with each pot.
Tip 3:  Goodwill has a ton of great glassware options that would be perfect for Easy DIY Terrariums! You could also try tall vases for open terrariums, or jars and bottles for a more Boho look.
Tip 4:
  This can be a fun project for kids to get involved with. Let your kids help choose the plants, and get their hands dirty potting.  They will love watching something they created grow throughout the Spring and Summer.
---
This month's guest blogger is Amanda DeVries.  Get in touch with her at This Growing Home or find her on Facebook.