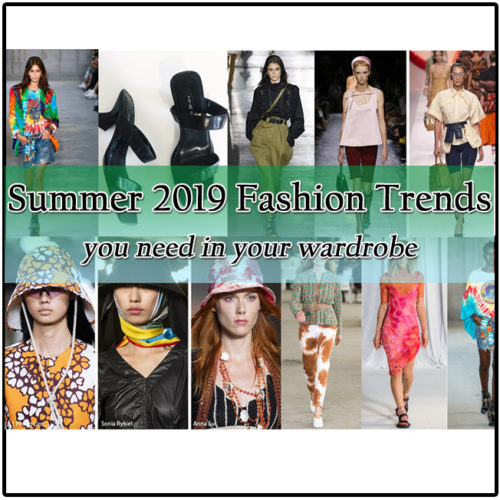 There are 5 fashion trends this season you need in your wardrobe.
We waited for Spring to be sprung and waited and waited. All of the sudden, summer is here.  The calendar begs the question what summer clothing is still in your closet from last year? What should you wear again this year? What is a budget-friendly way to add some of the current season fashion trends into your wardrobe?
All great questions.
There are some trends this season that I don't think are worth investing in. However, there are several from last summer that have stayed for this year. Current summer pieces all have a vintage vibe, making them fun things to hunt for at your local Goodwill store.
5 things you need in your wardrobe this summer
California Dreaming in tie-dye
Strappy low heel sandal
Sensible shorts (walking shorts)
Low-key easy utility pants
Bucket hats
In order to help you look your most fabulous best this summer, I've put together some thoughts and ideas for you to bring these trends into your wardrobe world.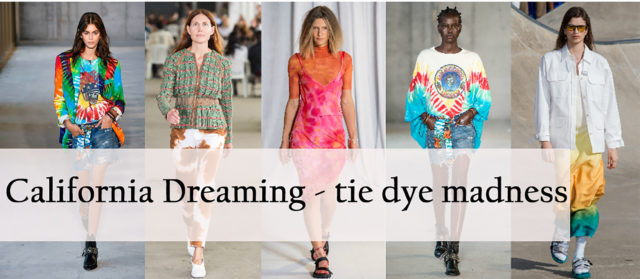 1. Tie-Dye
Tie dye is all the rage this season. Because it feels so summer-specific, be sure to get in on the trend now. Typically, tie-dye is a casual print. However, this summer favorite can work in the boardroom too. Here are some ideas on how to bring a little California Dreaming into your wardrobe:
At Work – tie-dye top with your basic suiting pieces. Be sure to tuck in your tie-dye t-shirt and don't forget layering on the jewelry pieces. Finish the look with a bright sandal.
On the Weekends – re-purpose a Goodwill find into your favorite tie-dye colors for a night out. Be unconventional and try your hand at tie-dyeing a skirt. Parents Magazine has an easy guide to tie-dying.
---

2. Strappy Low Heel Sandal
The strappy low heel is perfect for everyone…even those who say, "I can't wear heels". In fact, this style of sandal will lengthen your legs and add instant sophistication to your summer wardrobe. This shoe trend is one to embrace. I know it will be around for a while. Here are some ways to wear the trend:
At Work – ankle jeans, lacy blouse, and strappy low heel = perfect casual Friday sophistication
On the Weekends – try with your tie-dye t-shirt and cut off jean shorts. Be sure to do a French tuck on the t-shirt.
---

3. Sensible Shorts
If you want longer shorts, this is your time to shop. This style of short, also known as walking shorts, are great for embracing a more updated feel to suiting trends. These shorts also look great with the season's crop top looks.
At Work – if it is appropriate in your work environment, pair a walking short with a blazer jacket and silk blouse
On the Weekends – pair with your favorite graphic tee and strappy sandal, add a bucket hat for a fun festival look
---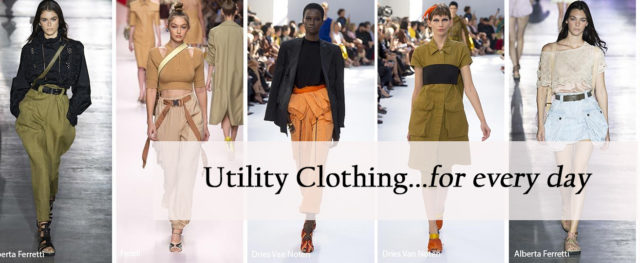 4. Utility Clothing
With roots in street-style, the utility feel of many of this season's clothing harkens back to the edgy notion of the '80s. Utility pieces are the season's of-the-moment trend. Although this trend might seem intimidating and hard to style, it doesn't have to be. Keep the utility feel of your outfit low-key as opposed to head to toe. Contrast those rough pieces with opposing fabrics and styles. Here are some ideas:
At Work – utility pants with your low heel strappy sandal and a silk blouse
On the Weekends – the loose structure of utility pieces are perfect to pair with a crop or tube top
---

5.  Bucket Hats
I thought the overall hat trend was a fleeting one, but that isn't the case. Particularly this season try a bucket hat. You won't be sorry.
At Work – maybe this trend isn't something to wear inside the office, however on rainy days, throw on a bucket hat to save your hair from the rain
On the Weekends – perfect with everything on your summer agenda, the bucket hat will keep the sun off your face while keeping your outfit cute and sassy