With summer officially here, and since the 4th of July being THE 'celebrate summer' event of the season, we need to talk. For me, and I am sure many of you, the holiday week will be a time to go to parties, do a little cleaning and of course some shopping!
I love to dress in a theme, use these fashion tips when pulling together your ALL AMERICAN looks this holiday week.


When cleaning out your closets consider these summer fashion no-no's…it will make it easier to donate some of those goodies to Goodwill!.
And shopping?

Well of course you will be heading to a local Goodwill store!

Keep these things in mind when adding to your closet.

Belly just a little too noticeable.Avoid belly shirts if this is a problem area for you, or if you are mature. Even if you have a rockin' bod, once you hit 40 there are certain looks that might not be age-appropriate.
SOLUTION!
Longer tanks and tops are more fashion forward this season. Look for something in a great color (maybe tangerine or aqua). Wearing the right size, silhouette and color will always make you look thinner, more youthful and completely on trend! Check out this one that was re-purposed from items found at Goodwill!
Photo Credit: http://littleredroost.blogspot.com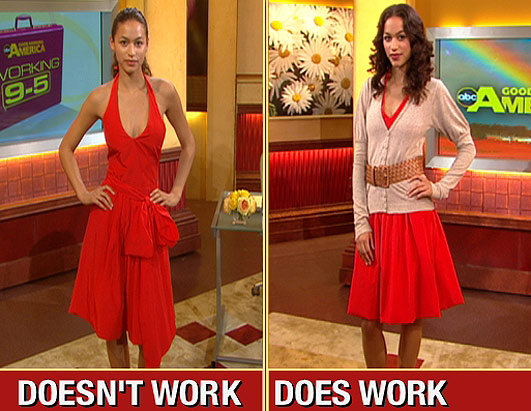 Too much cleavage…Even if you are young and sassy – modesty is the most attractive feature you can have
SOLUTION!
Layering! When shopping at Goodwill, look for summer weight sweaters and tank (cami) tops to layer under those skin bearing pieces. Check out this look as seen on ABC news.
Photo Credit: http://a.abcnews.com
Self tanner applied incorrectly.

If you find yourself with a smear of color that you hadn't intended on, a wedge of lemon will dissolve the mistake in seconds. Be sure to look in places you might not notice like your feet (between toes, ankles), neck, elbows. Tip – mix your self tanner with regular body lotion. This helps it go on more evenly.

Photo Credit: http://houston.culturemap.com

STAY TUNED for more Summer Fashion tips!