We are proud to congratulate the Excel Center Class of 2018!
These students took full advantage of the life coaches, teaching and opportunities offered at the Excel Center. 
What is the Excel Center?  The mission of the Excel Center is to provide adults the opportunity and support to earn a high school diploma and pursue a post-secondary education while developing career paths that offer greater employment and career growth opportunities. Our schools meet students where they are, by providing a flexible structure, child care and a support system that helps to eliminate fears and obstacles that might stand in the way of you being the best YOU.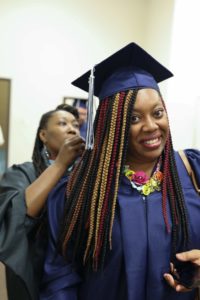 2 graduations were held this term: one for students from our South Bend Campus, and one for those from our Hammond Campus. We hope you enjoy the photos from both graduations! (click on the image to see the photo gallery)