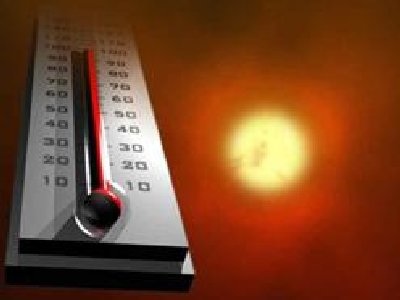 It has been so HOT outside this summer that the outside temperatures are leading to some questionable fashion choices.
You know what I mean…bathing suit tops worn as regular clothing, short shorts in the work-place. It is hard to determine what to wear when it is so stinkin' hot! I mean, I get it…I don't want to sweat through my clothes, and I want to do what I can to be somewhat comfortable.
I have been giving this a lot of thought, and have come up with some simple tips on beating the heat…fashionably speaking.
1. Dress in layers. It seems that would not be the answer to beating the heat, but the secret is to keep the layer closest to your skin a natural fiber (like cotton or linen). The layers will allow you to take off a jacket or sweater when you are outside, but still have your shoulders covered inside…covering your shoulders is the most appropriate for the office. And, you can pick up simple cardigans at Goodwill for about $5.00
2. Dress in a dress! Or a skirt. Dresses and skirts are infinitely cooler than pants or shorts. If skirts aren't your thing, and you are worried about investing in something like that just to keep cool…skirts and dresses run about $5.00
3. Loosen up! Simply stated, stay away from tight or clingy things. The more floaty the fabric and style is, the cooler you will be!
4. The color story. Keep the color of your clothing light. White is best. Remember that darker colors absorb light (heat) and lighter colors reflect light (heat). Every little trick helps, right?
5. Skip the beach. At least, the beach clothes, for work. The general rule of thumb (regardless of the outside temperature) is if you would wear it to a picnic, to sleep in or to the beach…do not wear it to work. This goes for flip flops too.
GOT A FASHION QUESTION?!
I'd love to answer it, AND to send you a coupon for 30% off the next time you visit one of our local Goodwill stores! Simply post your question in the comment section of this blog post, and we will randomly choose a few of your questions as winners! Be sure to include your email address so that I can get in touch with you to get the coupon into your hands!
PHOTO CREDITS:
http://www.janellelee.com
http://ecoquisitive.files.wordpress.com
http://wxgeekchic.blogspot.com